Preproduction model shown.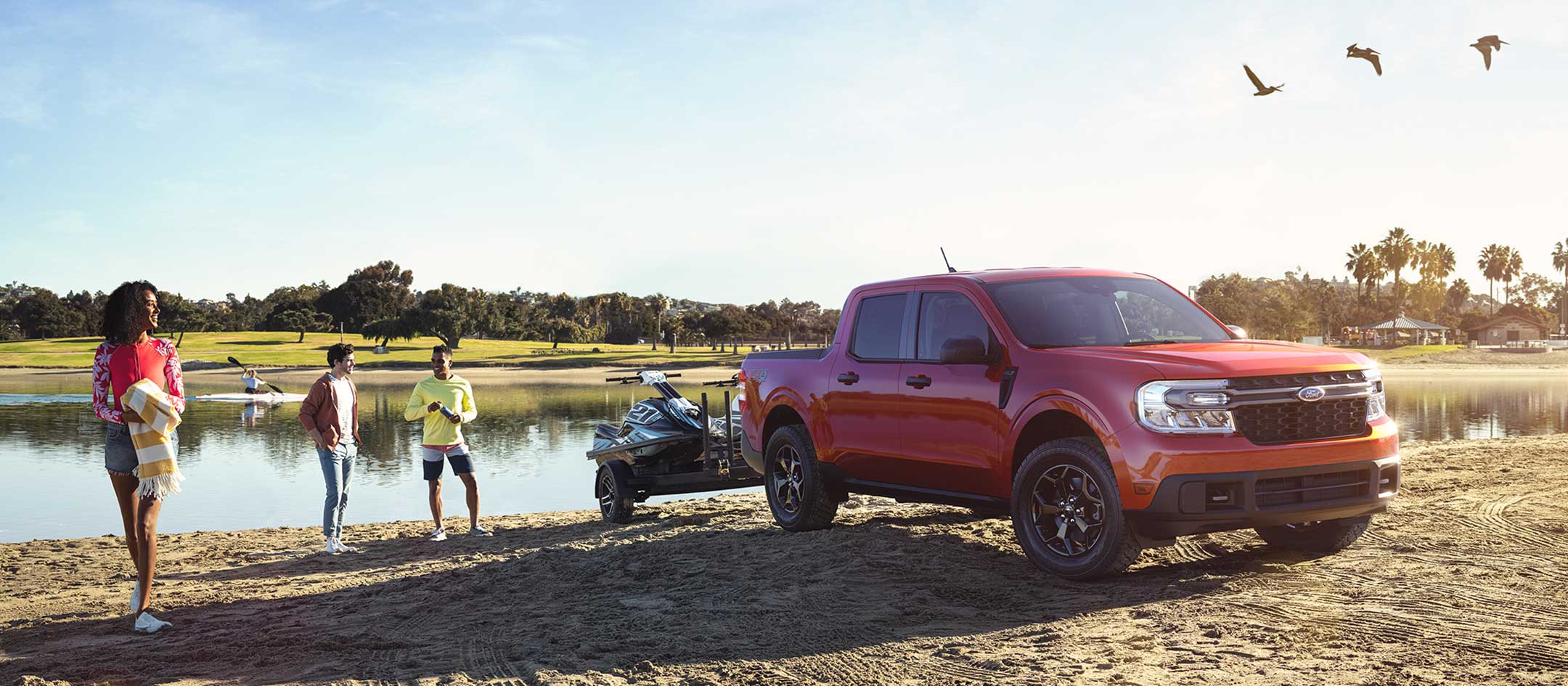 Come Witness the Incredible New Ford Maverick at Ford Lincoln of Queens!
When it comes to trucks, you want something that is sturdy and reliable for the long term, and the new Ford Maverick over-delivers! At our dealership, you will access this incredible model with supreme functionality and impressive technology that keeps you integrated with the road.
This is a highly compact vehicle on the outside which means you won't feel like you're driving a bulky truck. However, the interior is still exceedingly spacious and allows you to store any necessary items and up to five passengers conveniently. The turning radius is unmatched on the market, with only the best results. You will get increased maneuverability with the Ford Maverick, and this is perfect for traveling across cities that require finesse to navigate between. Experience this practical choice at our dealership right now!
Highly Capable for the road
This is a truck that is capable in many areas for supreme handling and longevity in the city with 50 mpg and a capacity of 1500 pounds. This vehicle will get you to the next destination with ease and comfort with enough space to go around. The smart storage solutions are exactly what you need to thrive across different journeys. This truck has a high base towing capacity of 2000 pounds and extends up to the maximum of 4000 pounds! This means that you can transport heavier equipment with ease and peace of mind knowing you won't have to make a second trip.
Sometimes, certain trucks can't handle a particular job because they simply lack power, but the Ford Maverick has the higher capacity. It can pull the weight easier in more demanding circumstances. You will be highly equipped for the road with this truck, where you're more capable than ever! It is suitable for all applications so you can effectively thrive on or off-road!
Innovative Technology
There's no reason why you need to leave technology behind when driving, and the Ford Maverick comes equipped with all the latest technology, including an intuitive Bluetooth screen. This effectively helps you stay connected with the world and is a shocking eight inches, so the screen is visually stunning. The standard apple car play and android auto are compatible with this truck no matter which service provider you use.
One of the most significant advantages to this truck is the ability to connect to the internet via the 4G network. This is perfect if you are traveling and have some work to do that requires internet access. You'll never have to wait again to check your email or complete an important document because the hot spot has you covered. If you're into a stellar sound system, then you'll be pleased to know this one comes with an eight-speaker B&O 660 Watt sound system that will blow you out of the water with pristine sound options.
Contact us today to take home the Ford Maverick!
If you're in the market for a new truck, then you should consider the new Ford Maverick because it's a great option all around. It features the latest innovations in technology so you can have all the perks of the modern world. It comes expertly crafted to ensure safety and continuity across all driving experiences.
This is one of the best trucks ever constructed with a more ergonomic design that favors swift and accurate navigation in challenging cities. You can rely on our sales professionals to answer any questions and give you a more comprehensive in-person overview when you visit us. Contact us today to set up a meeting, and we will show you why this is the best new truck for you!
Online Reservation FAQs
What is a reservation?
A reservation lets you select your vehicle and be among the first to order a new Maverick truck from Ford. It is not an actual order and does not guarantee delivery.
What steps are required to complete my reservation?
Go online and select "Reserve Now," fill out the reservation form and submit your request to join the list for a new Maverick truck. A confirmation will display after the form is submitted and an email with be sent to the address in the reservation form.
When can I order my vehicle?
We will help you select and build your Maverick truck. We will also help you agree on pricing and finalize your order for production. The Maverick truck ordering window opens at the beginning of June 2021.
When will my vehicle be delivered?
Maverick truck production and deliveries to Ford Dealers will begin fall 2021. Actual delivery times may vary based on configuration selected, residency and demand. Once your vehicle is scheduled for production, you will receive further notification from us about its status.
Am I buying this vehicle directly from Ford?
No. The purchase agreement will be between you and Ford Lincoln of Queens, not you and Ford Motor Company. A deposit is not required from Ford to submit a reservation.
DISCLAIMERS
By completing the reservation process, you are not ordering or purchasing a vehicle. Participation in the program does not guarantee you vehicle delivery. Your reservation does not guarantee a set price for the vehicle.
*2.5L hybrid powertrain. Actual mileage will vary. Final EPA estimated ratings available later in the 2021 calendar year.
** Max payload varies and is based on accessories and vehicle configuration. See label on door jamb for carrying capacity of a specific vehicle.
† Max towing with available 2.0L EcoBoost and 4K Tow Package. Max towing varies based on cargo, vehicle configuration, accessories and number of passengers. EPA-estimated fuel economy, payload and towing are independent attributes and may not be achieved simultaneously.
Apple CarPlay is a trademark of Apple Inc., registered in the U.S. and other countries. Android Auto is a trademark of Google LLC.BANG & OLUFSEN© 2021 and B&O© 2021. BANG & OLUFSEN™ and B&O™ are registered trademarks of Bang & Olufsen Group. Licensed by Harman Becker Automotive Systems Manufacturing Kft. All rights reserved.